What is Comment Backlinks?
By looking at our Comment Backlinks package you will probably think what are comment backlinks.
Do you ever heard about them? are they junk and useless? How to build them? or How comment backlinks can help you to boost your website?
What are comment backlinks?
Comment backlinks are those backlinks that you create for your website by commenting on blogs and articles.
Almost every blog have a comment section where it asks for your name, email, website URL, and big comment. Once you fill that field and submit the button, the comment gest published or goes under moderation to get approved.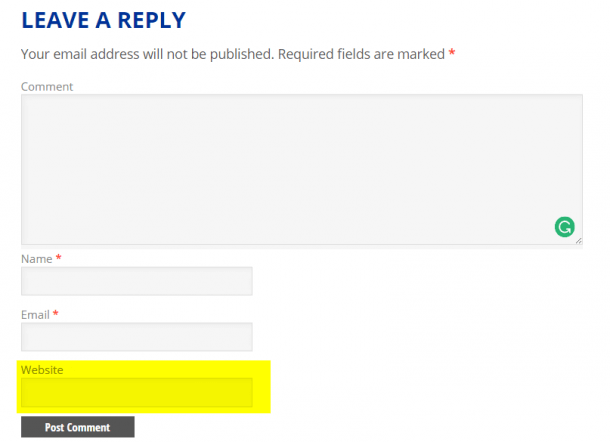 Once a comment is approved by the website owner or moderators, you can see your link which is now linked to that website. This is how you get a comment backlinks.
How does our comment backlinks process work?
In our comment backlinks package, we ask for a target keywords from you. support your target keyword is "SEO" then we use our keyword finder tool to generate more similar keywords.
From a single word, we generate more than 100-1000 keywords.
Then we use our crawlers to crawl the first 100 websites which are ranked for your target keyword.
We use our special white hat technique to submit your website with a comment section along with the target keyword as an anchor text.
For that, we take some time and private anonymous proxies to avoid spam.
Once all links are submitted we wait for 24 hours and check all previously submitted links for your website's comment which is approved or not.
If your link gets found in the site we collect the data and submit it in an excel report. This is how our comment backlinks process works.
Can Comment Backlinks Really Rank your Blog?
A YES and a NO !! That's my answer to this. It all depends on the competition you are playing with. And also on the quality of Comment links. If you check event blog ranking on Google, you will still find over 70% of ranked blogs having "Comment Backlinks" along with few other types of links. Even I rank event blogs with just comment links. Not only event blogs, many low or medium competition keywords can be ranked with comment backlinks, provided you play smartly.
This Package is more helping to boost up your Website / Blog / YouTube Channel ranking in Google search and other search engines and also help to improve your site online visibility. No Spammy links, Mostly use high Domain Authority sites. So don't hesitate, Come fast and place an order, after your placing order I will deliver you the proper work file on Excel format.
Backlinks help to boost your website at last your website content quality matters a lot.